CANUK Summer Reception 2015
@ Thursday 25th June
Register here.
Catch up over some chilling summer drinks and nibbles (kindly sponsored by Mansion House), hear our members sharing their experience from IFoA China Conference and get some career advice from Mansion House's Career Coach Heeral Gudka.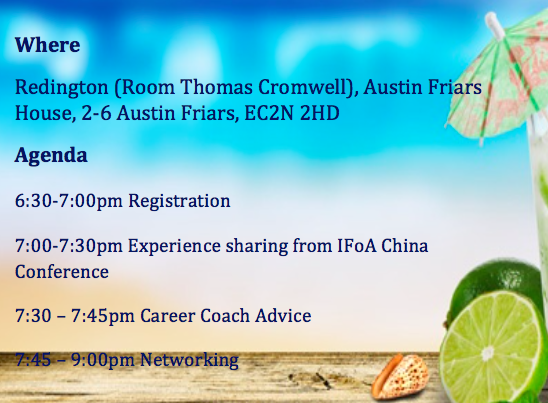 About Heeral Gudka Heeral is making her coaching services available to Mansion House's candidates. She can assist in a wide variety of circumstances including:
Career decisions
Making a good impression in first 100 days of a new role
Relocations to new cities/countries
Handling stressful work environments
She also offers more exploratory coaching around lifestyle decisions and identifying thought patterns and beliefs which help or hinder progress. Heeral moved into coaching in the summer of 2013 after an immensely enjoyable and varied actuarial career spanning 2 decades. She now runs a successful coaching business, working with individuals at a wide variety of stages of their professional life. During her career within insurance Heeral worked for one of the largest global consultancies, 2 prestigious London Market insurers and the world's largest run-off specialist at the time – living in London and Bermuda. Building relationships has always been Heeral's strong point, and most recently she worked as the main contact between her previous employer's actuarial department and the 13 branch offices spread across Europe. Heeral's move into career coaching was driven by the sincere conviction that she can contribute more to improving the work environment as a coach than as an actuary. Since beginning coaching Heeral has worked with people from all over the world and all manner of backgrounds.
---